Lonesome Dove: '…hate rude behavior in a man. …won't tolerate it.'

"...the better measure of 'Lonesome Dove's' import is anecdotal. If you know a Texan named Gus under the age of twenty, odds are he was named after McCrae. I know two such kids—and one is a girl." Tweet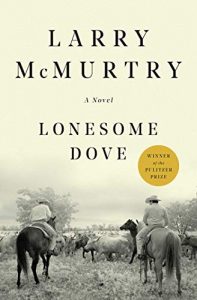 There are cowboy novels and movies, then there's Lonesome Dove.
We could tell you the plot, but that's not really the point. Lonesome Dove is a book and television miniseries you can't stop reading and/or watching because you feel as if you're part of every scene.
The Washington Post's review of the book:
"McMurtry's success with 'Lonesome Dove' comes in great part from the wonderful talkers with which the book is filled. Three of them stand out: Gus McCrae; a tough rancher named Wilbarger who claims to have gone to Yale when young; and a brilliant woman around 40 named Clara, whom Gus once hoped to make his third wife. The book is 800-pages long; I would gladly have listened to any of the three for another 800 pages. I couldn't of course, because by the end Gus and Wilbarger are both dead. But I still hope to hear Clara's voice again someday."
Texas Monthly on Lonesome Dove's 25th anniversary:
"It is the great hero myth of Texas, the state's favorite depiction of itself and the world's favorite depiction of Texas. Since its publication, on June 13, 1985, more than 2.5 million copies have been printed in the United States; the 1989 miniseries, which is the way most fans first came to the story, is the best-selling western DVD of all time. But the better measure of 'Lonesome Dove's' import is anecdotal. If you know a Texan named Gus under the age of twenty, odds are he was named after McCrae. I know two such kids—and one is a girl."
You'll want to keep going through all four books (Dove is the first book in the series) and the four-part miniseries once you start Lonesome Dove. By the time it's over, you'll be spitting' in the dust next to your boots and sayin' smart stuff like you was Robert Duvall playing Plato. Plus, you'll finally be able to quit Brokeback Mountain. More Dove right here:
SIGN UP FOR THE BEST OF PlannedMan.com
Delivered straight to your inbox every week.
SIGN UP FOR THE BEST OF PlannedMan.com
Delivered straight to your inbox every week.