Do the Math: Great At-Home Fitness Products That're Also Great for Your Wallet

Should you workout at home or a gym? That's a personal decision. But don't forget it's a personal finance decision, too. If you want to save money and workout at home, here are six great pieces of gear to get you started. Tweet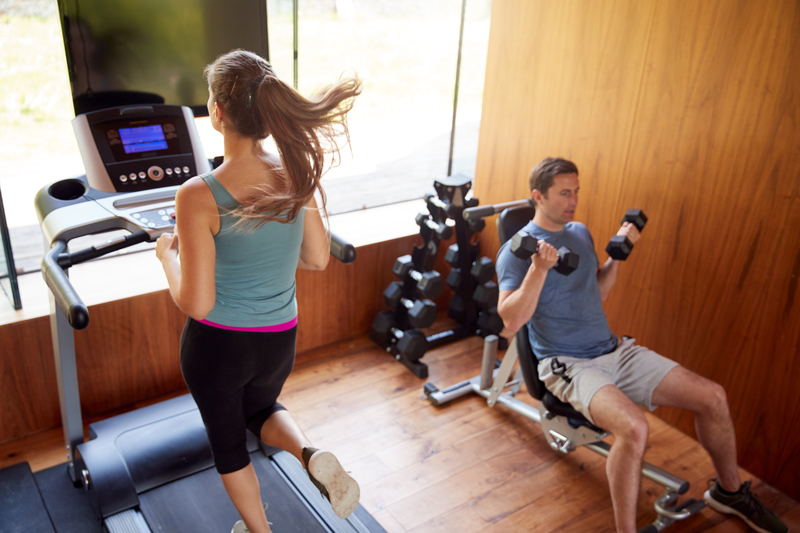 If you want to work out and get your abs and your wallet in great shape...
...build your own home gym. You'll save money and get fit faster. And cheaper.
When I was 13, my older brother got cut from his high school football team. His response changed my life. 
He went to Sears and bought a 110-pound weight set. It came with a barbell, two dumbbell handles, and 90 pounds in blue plastic-coated weight plates.
We had no idea what we were doing, but we still did a lot of it every other day in our basement. 
My high school's "weight room" was a former storage room with a universal multi-station gym. But compared to my basement, it was Ivan Drago's training center in Rocky IV. 
Once I joined my first commercial gym, after four years of lifting in my college's rec center, I thought I was done with home workouts. 
Then came the pandemic. My gym closed without notice, as did almost every gym in the world. That left me scrambling to figure out how to replicate my fitness routine without any of the equipment I used in the gym.
I moved my gym into the spare bedroom I was using as a home office.
And I had to do it in half of the spare bedroom I was using as a home office.
Meanwhile, I also started doing some math using the muscle in my head:
Suddenly I understood that by saving the full cost of my gym membership (and still getting great workouts), in about 18 months I'd be building more muscle and saving money at the same time.
After I put my brain through that financial workout, here's the equipment I chose to give my body a great at-home workout:
Body Solid adjustable weight bench
Assembly is a chore (I'm much handier with a dumbbell than a wrench), but once you put it together, you've got a bench that's easy to adjust from flat to incline or decline, supports up to 500 pounds, and will last a lifetime. 
2. PowerBlock Elite Series adjustable dumbbells
These are the original adjustable dumbbells, with a design that's both simple and brilliant: Using a U-shaped pin, you select the weight you want from a nested stack. 
The starter set in the Elite Series gives you a pair of dumbbells that start at 5 pounds and go up to 50. If you need heavier weights, you can go up to 70 pounds with the Stage 2 kit, and then up to 90 pounds with the Stage 3 kit.  
If you have room in your budget, I recommend adding the column stand. It makes your dumbbells look like part of your interior design.
3. Fit Simplify minibands
A good workout is more than just lifting things up and putting them down. With these minibands around your knees or ankles, you have new ways to challenge your hips, thighs, and core.  
4. LEEKEY resistance band set
Resistance bands can replicate anything you do in the gym with a cable machine. 
5. Motion Fitness door anchor 
This attachment allows you to position your resistance bands at the top of the door (for lat pulldowns and triceps extensions), at the bottom (for curls and upright rows) or anywhere in between (for rows and chest presses). 
6. SPRI exercise mat
If your exercise space is anything like mine, you'll need to put something between the floor and your back, elbows, or knees. This versatile mat works for everything from pushups to core training to flexibility. And when you're tired, use it for naps.