Great American Stories: Babe Didrikson

when it comes to Babe Didrikson, the question isn't so much whether she was the greatest female athlete in U.S. history, but whether she was just the greatest athlete, period. Tweet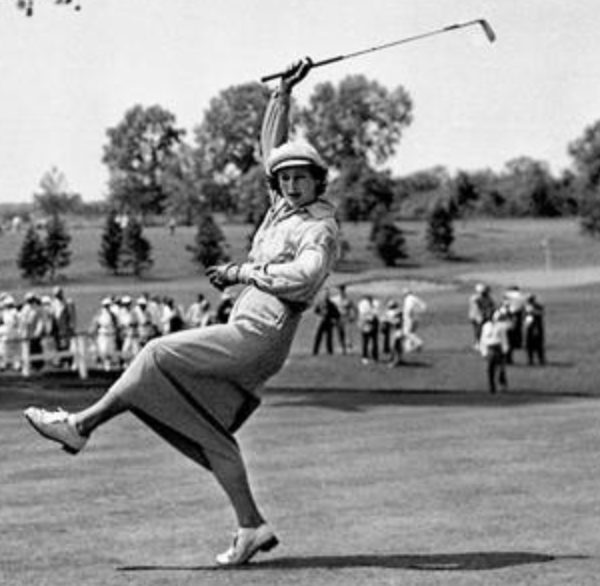 On this date in 1949, former Professional Golf Association tournament director Fred Corcoran announced that the newly sanctioned U.S. Women's Open would be held two weeks hence in Landover, Md. The first president of the just birthed LPGA was named, too: Patty Berg, the pride of Minnesota golf — and of the U.S. Marine Corps, for that matter: She served in the USMC as a World War II procurement officer.
Other charter members of the LPGA were Betty Jameson, Helen Hicks, Helen Dettweiler, Marilynn Smith, Bettye Mims Danoff, and Mildred "Babe" Didrikson Zaharias. Fred Corcoran, who had helped make the men's tour a financial success, was tapped as tournament director.
Although all these women were terrific players, one name on that list of luminaries stands out for her athletic prowess, as she did at the time. As I've written before, when it comes to Babe Didrikson, the question isn't so much whether she was the greatest female athlete in U.S. history, but whether she was just the greatest athlete, period.
Born in 1911 to Norwegian parents who settled along Texas' gulf coast, Babe Didrikson was a tomboy and all-around jock who claimed that her nickname came from all the home runs she hit. This provenance is doubtful, and as ESPN writer Larry Schwartz has written, the fiery Ty Cobb was more her style than Babe Ruth anyway.
Coupling fierce competitiveness with superb coordination and a strength that belied her 5-foot-5 inch, 145-pound frame, Babe Didrikson excelled at baseball and every other sport she ever tried, including track and field, basketball, tennis, swimming, diving, boxing, volleyball, handball, bowling, billiards, skating and cycling. And, of course, golf. Asked if there was anything she didn't play, she quipped, "Yeah, dolls."
"My goal," she said when asked about her youthful ambition, "was to be the greatest athlete who ever lived."
Many of her contemporaries thought she succeeded. "She is beyond all belief until you see her perform," wrote Grantland Rice. "Then you finally understand that you are looking at the most flawless section of muscle harmony, of complete mental and physical coordination, the world of sport has ever seen."
At the U.S. Olympic trials in 1932, Didrikson (she would change her last name after marrying in 1938) entered eight of the 10 events, winning six of them. Female Olympians were limited to three events at the time, so Babe threw the javelin at the Los Angeles Olympics that year (winning easily), ran the 80-meter hurdles (setting a world's record), and competed in the high jump (she tied for first place, but was given a silver instead of her third gold because of her unorthodox jumping style — one that is now use by all jumpers, male and female).
Afterward, she barnstormed as a professional basketball star, bowler, and tennis player. Golf eventually afforded her a way to make a steady living, but she did more than that. She opened a nation's eyes to the very possibilities of female athletes. Asked once how she managed to rip off drives that carried some 250 yards despite not even weighing 150 pounds, she replied, "You've got to loosen your girdle and let it rip." 
Carl M. Cannon is the Washington bureau chief for RealClearPolitics. Reach him on Twitter @CarlCannon.