Great American Stories: A Fateful Journey

On the morning of July 29, 1945, the plan for the USS Indianapolis was to rendezvous with the USS Idaho three days later. Instead, they sailed into a horror movie. Tweet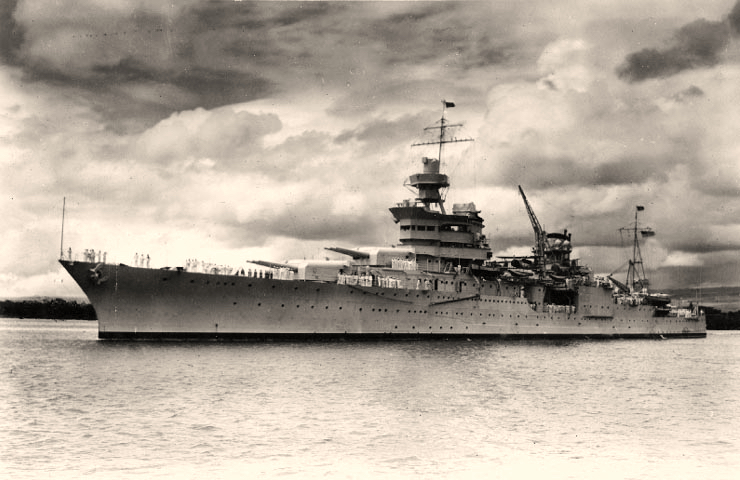 Everything looks better in foresight...
...and for the 'Indy Maru' the future looked great. It wasn't.
Seventy-six years ago today, the USS Indianapolis, a 610-foot-long heavy cruiser, was leaving the Marianas on a course for Leyte Gulf in the Philippines. Affectionately known by her crew as the "Indy Maru," the vessel had been President Franklin Roosevelt's favorite U.S. Navy warship. He knew it well: Before the outbreak of World War II, FDR had spent most of his month-long goodwill tour of South America aboard the Indy.

She had been a lucky ship, too. The Indianapolis was away from Hawaii on routine exercises when the Japanese attacked Pearl Harbor on Dec. 7, 1941. In the ensuing time she had seen action in many of the most decisive naval battles of the war in the Pacific. And as the war was winding to its devastating and climactic end, the Indianapolis was again doing her part — she had just delivered key atomic bomb components to the B-29 base on Tinian Island.
Now, on the morning of July 29, 1945, the plan was to rendezvous with the USS Idaho three days later. It was a journey of 1,300 nautical miles on the open ocean. Knowing that the Indy lacked the Navy's most sophisticated sonar equipment, its captain, Charles B. McVay III, had requested a destroyer escort. He had been informed the day before that this request was denied. What he wasn't told was that U.S. Naval Intelligence had detected two Japanese submarines in the waters he was heading into — or that one of them had sunk a Navy destroyer.
But Capt. McVay was the son and namesake of a renowned admiral and a graduate of the U.S. Naval Academy. Trusting the U.S. Navy to give him the best equipment, men, and information at its disposal, he took his orders in stride. This was war, with an enemy that was not yet defeated. McVay gathered his officers together. "We are going to Leyte," he told them, "to prepare for the invasion of Kyushu."
Instead, they sailed into a horror movie.
---
Carl M. Cannon is the Washington bureau chief for RealClearPolitics. Reach him on Twitter @CarlCannon.