Which Hairstyle Is Right For Me?

There are only five – count them, five – different haircut styles that matter. All the rest, fuhgeddaboutit! Tweet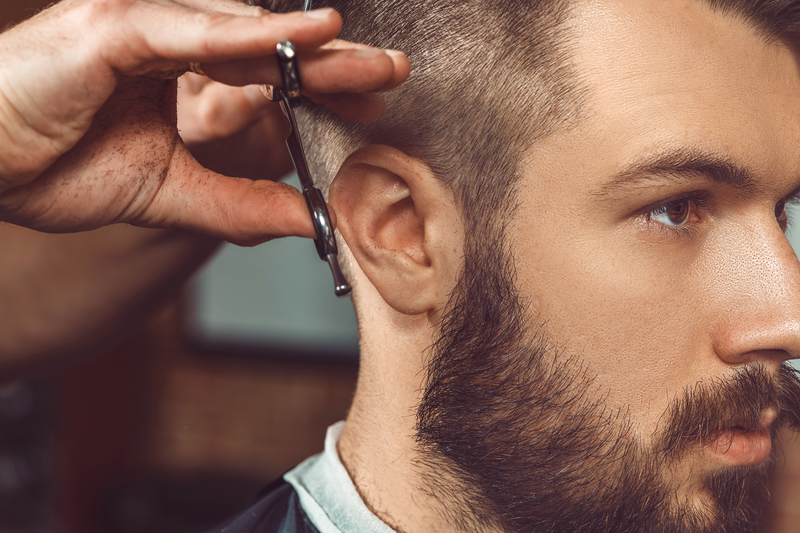 The American barbershop. Testosterone and Burma-Shave.
That's the scent of an unapologetic man. The look? Short back and sides. And definitely not a mullet.
Should you get the same cut you've gotten year after year?
Or try something different to mix things up a bit?
I once told a "stylist" I wanted to "try something different" and I walked out with a haircut that I can only describe as a Beaker.
Beaker, you may remember, was the mop-topped lab assistant for Dr. Bunsen Honeydew on The Muppet Show.
Try looking for advice online and it only gets more confusing. Some sites offer stories like "37 Best Haircuts for Men With Thick Hair." Seriously,? 37? I don't want to have to pick from 37 choices for dinner or 37 choices for sex positions. I just want to get a haircut.
There are only five types of hairstyles you ever need to consider.
So we're going to cut through the bull and give it to you straight: There are only five types of hairstyles you ever need to consider.
They are timeless and classic for a reason — they work.
They worked for your dad, they worked for your grandfathers and great-grandfathers, and they'll work for you, and your sons and their sons.
Alternate between these five as you see fit.
But if you try anything else — a faux hawk or, god help us all, a French cut with fangs fringe or something like that — you better be in a boy band or an Instagram "influencer," because there is no other good reason for a grown man to look like this: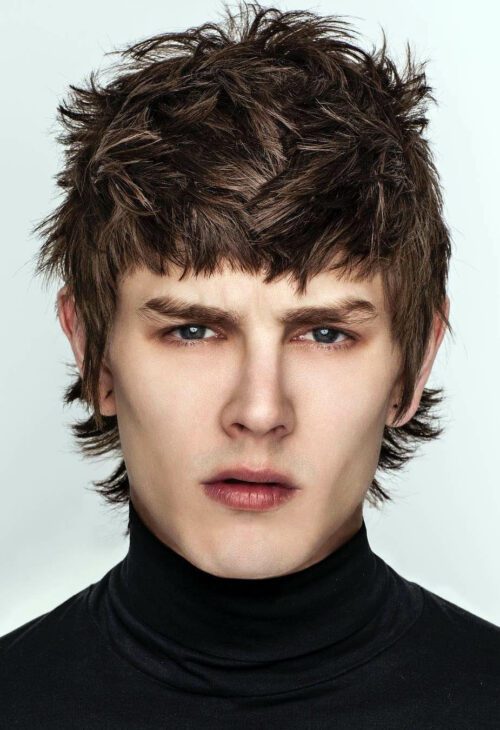 THE BUZZCUT
It started as a standard-issue military cut, but it's become a popular favorite for guys with a lot of variations who just want to look sharp without a lot of frills. It doesn't hurt that celebs like Drake, Jason Statham, and Ryan Reynolds have made this hairstyle look like much more than just the desperate attempt to hide a bald head. Best of all, if you have a pair of clippers, you can cut and maintain it yourself in the comfort of your own home. Just be aware of any bumps, scars, or moles on your head. You should also be sure to cut it every week and a half to two weeks, as Axe master barber Pedro Rosario explained to Men's Health magazine. "If you're keeping the lines crisp, that could mean touching them up even more often, like once a week, depending on your hair texture and density," he says.
SLICK BACK
Long or short — although a little long and straight is usually best for this style — the slicked back look is popular because of its versatility. It works whether you want to look sleek and sophisticated — think Don Draper in Mad Men — or rough and unpredictable — Johnny Depp in the John Waters' Cry Baby is supposed to be the leader of a gang of street delinquents, but he looks like he wouldn't be out of place in Grease. The best part of this style is there's no one right way to do it. You can slick it back with a side part, or grow it long and wear it as a man bun. But however you like it, just go easy on the product. That's according to Gregorio Ruggeri, owner and lead stylist at Salon Ruggeri in NYC, who told GQ magazine that it's best to start with a dime-sized dollop if you aren't sure how much to use. "At most, you should not exceed a penny-sized portion," he said.
THE POMPADOUR
This one takes a little more effort, but it's worth the time commitment. Elvis Presley and James Dean made it famous, but the tradition has been carried on by celebs like Bruno Mars, Morrissey, David Beckham, and Zac Efron. It's an ideal cut if you've got an oval, triangular, or round face shape. But it's worth noting that this isn't a style to attempt if you don't have a healthy head of hair. And a receding hairline will do you no favors. "It's all about weight distribution," according to Adam Gore, the founder of Barberology. "You need to make sure that your hair is long enough in the right places to ensure the style holds, so usually 6 centimeters or longer on top and as short or long on the sides as you like." Centimeters? Right. Almost 2.5 inches.
THE SIDE PART
One of the most iconic styles for men of all time, especially if you like a shorter cut but don't want to go as extreme as a buzz. It's definitely short, but with enough hair on top to be parted and styled however you want. It's sometimes called the Ivy League, as a tip of the hat to President John F. Kennedy, who brought this preppy Harvard-clip style into the mainstream. And the best part? Because this cut is low maintenance by design, "you don't need to do much to style it," explains the experts at Pall Mall Barbers, who've been cutting hair since 1896. "Get your barber to add texture throughout the hair, this will give you that messier, textured look that makes the hair easier to style." It's a cool-to-be-casual cut.
THE FRENCH CROP
More widely known as the Caesar Cut, due to its popularity among Roman Emperors, this is the perfect style for guys with thin or receding hairlines, or anyone who wants to look as smoldering as George Clooney or Antonio Banderas in the 1990s. You can wear it long or short, with a fade to make it edgier or textured to give it a more rugged appearance. Alex Glover, the co-head barber at Adam Grooming Atelier, told Esquire magazine that you should ask your barber for "round layering at about five centimeters length on the top, graduating to a slightly longer fringe of six to eight centimetres with scissors, and texturised." It's from Esquire, so they mean centimeters. Tip: comb those little, weird bangs straight up, slap on some Dixie Peach and you got yourself a flat-top, the coolest look of the '50s.